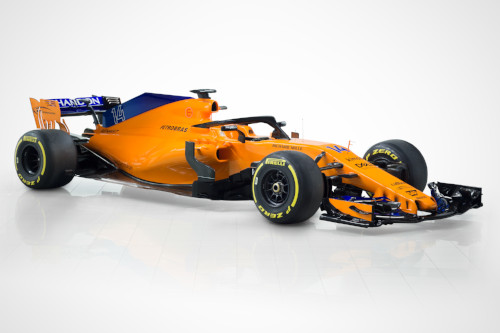 МакЛарън представиха болида си за 2018 година - MCL33.










Видео:
https://twitter.com/SkySportsF1/status/966946619647291392/video/1
https://twitter.com/SkySportsF1/status/966957421372559365
https://twitter.com/SkySportsF1/status/966963694549786624
https://twitter.com/MigueluVe/status/966962736243470337
https://twitter.com/SkySportsF1/status/966977421122600960
https://twitter.com/McLarenF1/statuses/966979280814133248
https://twitter.com/Estenaga13/status/966976083039084544
https://twitter.com/LucindaBrown/status/966988427928522752
https://twitter.com/SkySportsF1/status/967001572759822336
https://twitter.com/Estenaga13/status/967006989137170433
https://twitter.com/McLarenF1/status/967015529008517122
https://twitter.com/kikeurdanoz/status/967014260101525509
https://twitter.com/kikeurdanoz/status/967015565482233856
https://twitter.com/McLarenF1/status/967044260586557441/video/1
https://twitter.com/McLarenF1/status/967059361842565121/video/1
https://twitter.com/McLarenF1/status/967078578994196481
https://twitter.com/LucindaBrown/status/967079074660315136
Фернандо Алонсо:
My winter has felt somewhat shorter than usual, as I've already been in the cockpit for a 24-hour race, and several sports car tests! That said, I'm really looking forward to getting behind the wheel of a Formula 1 car for the first time in three months.
Looking at our new car, I feel incredibly excited – but also apprehensive. I know just how important this car is to the team, and I just hope that it delivers in the way we all want it to.
If we're able to develop the key strengths of last year's chassis and marry it to an improved Renault power unit, then I think we'll be able to take a step forwards. The car certainly looks very neat and well thought-out, and I think the new colour looks really great; really eye-catching.
I just want to get behind the wheel now!

Щофел Вандорн:
The arrival of a new car is always one of the most tense and exciting moments of the season. For everyone at McLaren, this is an important car; we all know exactly how much rests on it being successful, and we're all extremely keen to see just how well it performs when we start testing it next week.
From my perspective, I really hope we can start the season with a stable platform that we're able to develop quickly and easily. It would be great to have a smooth few weeks of winter testing, and to go to Australia feeling confident about the year ahead.
I've been training hard all winter and feel as ready as I can be to get back into the cockpit. I'm fit and focused, but I'm also relaxed, because I think we've had a very productive winter and have designed a very capable new car.
I can't wait to put it to the test.

Шейх Мохамед бин Еса Ал Халифа:
The MCL33 represents a fresh chapter for McLaren – one that clearly embraces our evocative history while also serving to guide our future. We may have faced a tricky last few years, but this team has demonstrated time and time again that it emerges stronger from each and every challenge.
And, for 2018, it's not merely the colour of the car that marks the change: there's a determination and commitment that exists within everyone who works at McLaren, and we're fighting stronger than ever to return to the front.
I also want to acknowledge the loyal support of our long-standing partners including Chandon, NTT Communications, Hilton, Richard Mille, Norton Rose Fulbright, SAP and all our official partners and suppliers.
We have strong leadership, hugely experienced and talented people, new partners, and motivated, exciting racers behind the wheel.
We are ready to race.

Мансур Одже:
It's imperative that McLaren looks to re-establish itself on the track this year.
Off-track, we have been working as strongly as ever: this year's car is the result of a fantastic amount of teamwork and effort, of which we can be hugely proud. As ever, this formidable team keeps pushing itself forward, and I applaud everyone at McLaren for their relentless commitment to the mission.
It's fantastic to be able to return McLaren's grand prix cars to the classic papaya orange livery they once sported in the 1960s. They look incredible, and really underline the fearless spirit with which we attack the new season.
As a team, we have always been at our best when we are at our bravest, and I think this is another example of that indomitable spirit.

Зак Браун:
The McLaren team was created by a brave pioneer, and has had bravery at its core ever since. Whether it's been with brave drivers, brave leaders or brave fortune, this team has always fought back.
And we definitely view 2018 as the year when McLaren will move closer to the front, fighting teams and drivers as we improve our fortunes.
We have an excellent team, a new engine partner in Renault and a host of fantastic new partnerships: Airgain, CNBC, Dell Technologies, Kimoa and Petrobras have all been welcomed to the McLaren family.
Our return to a papaya orange livery for this year wasn't simply an emotional decision; it demonstrates that we are listening to our fans, building deeper engagement with them and the Formula 1 community as a whole.
We want McLaren to earn respect on and off the track, and this felt like a good starting point. We want to show everyone what makes this team special, whether that's our fans or our partners – there's room for more on our journey.

Ерик Булие:
I think the whole team feels proud of this car.
The design, engineering and aerodynamic departments have done an incredible job delivering a new car with a new power unit in an extremely short timeframe. We never took the easy route or looked to shortcut a process or a solution; and the result is a car that is neat and well-resolved.
That said, we are under no illusions that it will be difficult to splinter the hegemony at the front; and that the midfield will be full of well-funded, experienced outfits with plenty to prove. We are humble about the challenge ahead, but feel we've prepared well, have a solid package that we can build upon and exploit as the season progresses, and have two excellent drivers who will make the difference in races.
At McLaren, we are all racers – pure and simple. We're going to come out pushing, and we're going to be racing as hard as ever.

Тим Гос:
With last year's car, we had to commit to certain decisions about architecture based on what we knew at the time.
With a year of track learning behind us, we've used that understanding to adjust some architectural decisions. That means we've been able to revise all the sorts of things you bake into the chassis at the start of the year.
We're definitely continuing along the same trajectory.
For launch, the car will look evolutionary, and we will continue enhancing the MCL33 through testing and the race season.
In terms of development, the design team has focused on refining the package; making it neater, simpler and more elegant.
That's always been an area of focus for us. But, this year, we went beyond to get a neat and tidy packaging solution. And that just gives the aerodynamicists more scope to play with the bodywork.
That change has been a big deal. Even though the regulations state that the front and rear engine mounts need to be the same for every manufacturer, the layout of the engine, its architecture, is very different from before.
There are two families of engine out there; the Mercedes and Honda concept, with the compressor at the front of the engine, turbine at the back, MGU-H sat in the vee; and the Ferrari and Renault approach, where the turbo-charger is at the back of the engine, and the MGU-H sits forwards into the vee.
Each of those approaches has its pros and cons, but I'm actually quite a big fan of the Renault approach. Making the switch had a big impact on the installation of the engine. The advantage of the Renault layout means that we can push the engine forwards, but then you have the compressor at the back of the engine, so you've got to get the outlet pipes forward without impacting the packaging.
We had to redesign the back of the chassis, the gearbox bell-housing area, the rear suspension, and the cooling layout. That was two weeks of intense effort to get right. But it was something we were somewhat prepared for, because we knew it might happen, and it's amazing what people can do in such a short space of time when the chips are down and you've got a really clear mission.
So now we've got a really tidy packaging solution; the gearbox and rear suspension designers did an unbelievable job to redesign everything.
It's a marker of the strength in depth of the department that it could incorporate such a fundamental change to the car so late into the design stage, and still deliver to plan.
That's because we've got a very tight-knit engineering group. There's a very clear level of communication between us, so we could make quick and bold decisions, then just get on with it.


McLaren MCL33 Tech SpecMonocoque:
Carbon-fibre composite, incorporating driver controls and fuel cell
Safety structures:
Cockpit survival cell incorporating impact resistant construction and anti-penetration panels, front impact structure, prescribed side impact structures, integrated rear impact structure, front and rear roll structures, Halo secondary roll structure
Bodywork:
Carbon-fibre composite, including engine cover, sidepods, floor, nose, front wing and rear wing with driver-operated drag reduction system
Front suspension:
Carbon-fibre wishbone and pushrod suspension elements operating inboard torsion bar and damper system
Rear suspension:
Carbon-fibre wishbone and pullrod suspension elements operating inboard torsion bar and damper system
Weight:
Overall vehicle weight 733kg (including driver, excluding fuel)
Weight distribution between 45.4% and 46.4%
Electronics:
McLaren Applied Technologies. Including chassis control, power unit control, data acquisition, sensors, data analysis and telemetry
Instruments:
McLaren Applied Technologies dashboard
Brake system:
Akebono brake calipers and master cylinders, Akebono "brake by wire" rear brake control system, Carbon discs and pads
Steering:
Power-assisted rack and pinion
Tyres:
Pirelli P Zero
Race wheels:
Enkei
Garage radio:
Kenwood
Paint:
AkzoNobel Car Refinishes system using Sikkens products
Cooling systems:
Calsonic Kansei water and oil cooling
Advanced manufacturing:
Stratasys 3D Printing & Additive Manufacturing Mazak Advanced Technology Solutions
Power unit type:
Renault Sport R.E.18
Minimum weight:
145 kg
Primary PU components:
Internal Combustion Engine (ICE)
Motor Generator Unit – Kinetic (MGU-K)
Motor Generator Unit – Heat (MGU-H)
Energy Store (ES)
Turbocharger
Control Electronics
Capacity:
1.6 litres
Cylinders:
Six
Bank angle:
90 degree vee angle
No of valves:
24
Max speed:
15,000 rpm
Max fuel flow rate:
100 kg/hour (above 10,500 rpm)
Fuel consumption:
105 kg "lights to flag" regulated fuel capacity limit
Fuel injection:
Direct injection, single injector per cylinder, 500 bar max
Pressure charging:
Single-stage compressor and exhaust turbine, common shaft
Architecture:
Integrated Hybrid energy recovery via Motor Generator Units
Crankshaft coupled electrical MGU-K
Turbocharger coupled electrical MGU-H
Energy store:
Lithium-Ion battery, between 20 and 25 kg, Maximum energy storage, 4 MJ per lap
MGU-K:
Maximum speed, 50,000 rpm, Maximum power, 120 kW, Maximum energy recovery, 2 MJ per lap, Maximum energy deployment, 4 MJ per lap
MGU-H:
Maximum speed 125,000 rpm, Maximum power, unlimited, Maximum energy recovery, unlimited, Maximum energy deployment, unlimited
Gearbox:
Carbon-fibre composite main case, longitudinally mounted
Gear ratios:
Eight forward and one reverse
Gear selection:
Electro-hydraulically operated seamless shift
Differential:
Epicyclic differential with multi-plate limited slip clutch
Clutch:
Electro-hydraulically operated, carbon multi-plate
Transport:
Volvo Trucks
Още от сезон 2018:
Само регистрирани потребители могат да коментират. Ако вече имате регистрация можете да влезете в сайта от "Вход". В противен случай можете да се регистирате като натиснете "Вход" и избере "Регистрация". За повече информация:
f1.f-e-n.net/index.php/url14729