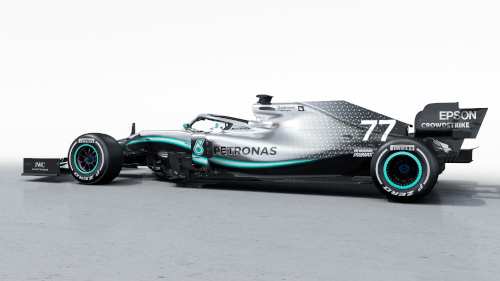 Мерцедес показаха новият си болид W10 на пистата Силвърстоун.


Видео:
https://twitter.com/SkySportsF1/status/1095643619501981696
https://twitter.com/MercedesAMGF1/status/1095658466646069249
https://twitter.com/PET_Motorsports/status/1095664849814720512
https://twitter.com/MercedesAMGF1/status/1095636827501936640/video/1
https://twitter.com/MercedesAMGF1/status/1095578322912694272/video/1
Люис Хамилтън:
I had a great Christmas with my family and then I went snowmobiling, I went skiing, I went surfing with Kelly Slater, which was amazing. I completely switched off from racing for a while, trying to focus and re-centre myself and training hard for the new season. 2018 was a great year, but I feel like 2019 can be even better. I want to achieve more, I want to continue to keep pushing. I feel energised and I'm ready to attack.

I'm really looking forward to the next step of our journey together with Mercedes and embarking on what's not been done before. This is my seventh year with the team and the energy and the determination within the team are really inspiring. The buzz really starts at the beginning of the year when you see the car coming together. And then you get to the shakedown and you get into the car - it just never gets old. It feels like a real privilege - so many people have worked together to form that car and you know how much hard work has gone into it. Driving the new car is like meeting someone new for the first time - you want to get to know them the best way as quick as possible as you embark on a journey together.

Валтери Ботас:
I had a really good winter; I'm full of energy and I'm looking forward to the new season. I started my first training camp in early January and have been on a good path ever since. I did most of my training in Finland, first in the south close to my home town, then further north in Lapland because that's where you get a proper winter. The conditions are quite harsh, it's freezing cold, snow is guaranteed, but it's a great environment to exercise and prepare your mind and your body for the upcoming fight.

I am excited for the new season and that everyone starts with zero points. We are all on the same line and 2019 can bring anything; I'm going to go all in this year. There was quite a bit of criticism at some stages of 2018, but that's actually been a positive thing for me because it's given me an extra boost! I'm now looking forward to drive the new car for the first time. The car has changed quite a bit because of the aero regulations changes, so it will be interesting to get an idea of how the car feels and how it handles. You never know what to expect and so it's exciting to jump in the car and discover it, to try to get a feel of the balance of the car and its behaviour. We do already push the car in the shakedown to get a feel for it.

Тото Волф:
The 2019 season will be a new challenge for all of us. The regulations have changed quite substantially. We have to start from scratch, we need to prove ourselves again - against our own expectations and against our competitors. We start the season with zero points, so we're taking nothing for granted and there's absolutely no feeling of entitlement to be at the front. In fact, with the regulation change for the new season, every team can have a shot at the title and we're seeing all of them as a potential threat.

We're eager to hit the ground running in Barcelona, to benchmark ourselves against our own simulations and see if our predictions materialise on track. We will focus on ourselves, building up performance and hopefully be ready when the first really competitive session starts on Saturday in Melbourne.

Джеймс Алисън:
Regulation changes are both opportunity and threat. They are an opportunity because all the old assumptions about what you need to have to be quick are swept away and, if you are fleet of foot and smart in dealing with that, you can do better than all the other teams that are tackling the same change. They are a threat because if you are not as smart and you didn't see how to make the most of these new regulations, then you'll certainly suffer in the coming season. But they are always exhilarating because you have that sharp sense of anxiety that you might not be doing enough but equally the thrill and excitement of looking forward to finding out.

The handling of the W09 was a big improvement over the rather idiosyncratic W08. We managed to be competitive at tracks which had plagued us in recent years. However, notwithstanding this improvement, we were still not as good as some of our competitors at preserving the performance of the rear tyres. We have worked hard on the suspension and aerodynamic characteristics to deliver a car that will be much kinder to its tyres - enough, we hope, to allow us to be competitive at all phases of the race and at each track on the calendar.

Even though the minimum weight limit was lifted by 10kg for 2019, weight reduction remains a real challenge on the current generation of F1 cars. Components that we felt were stripped to the bone in 2018 have been taken, one by one, and subjected to a further round of aggressive analysis to shave further weight from them. Some components surrender what feels like a giant step of half a kilo, others just a few grams, but collectively each of these victories add up to a handful of kilos that have been invested back in the car on aerodynamics, suspension and Power Unit to bring performance.

A close inspection will reveal that the execution of this concept has been further refined. Every item is pushed tighter, made more slender - each change permitting us to improve the aerodynamic performance beyond what would have been possible had we accepted the physical limitations of the 2018 design.

Анди Коуел:
We've made changes to the cooling architecture of the Power Unit, which hopefully provide aerodynamic benefit on the car and also provide efficiency benefit on the Power Unit - so, hopefully a win on both the chassis and on the Power Unit. Right at the heart of the Power Unit is the conversion of fuel into heat release in the combustion chamber and useful work out of the crankshaft. We have made steps on the combustion efficiency and on the ERS system. The marriage between the turbocharger assembly with the MGU-H, the inverter, the cells and the MGU-K: that whole system is now capable of operating more efficiently and helping with energy deployment through a race.

The fuel is right at the heart of the combustion and making sure that the chemical composition and the thermodynamic architecture of the Power Unit are working together exceptionally well is key to thermal efficiency. PETRONAS have continued to work well with our thermodynamic engineers, we've run many candidates on the single cylinder and on the V6 engine to derive a new fuel for 2019. It's a very tight-knit group, the PETRONAS engineers know exactly how the engine works and our Power Unit engineers know exactly how the fuel works. PETRONAS also provide the lubricants for our car which play two roles: to make sure that components don't contact, it's key that there is an oil film between highly loaded components both for reliability and for friction reduction. If you can keep components apart the friction is lower, and the wear is lower, but the lubricant also provides cooling within the engine. It's a critical element of the engine, it's the lifeblood of the engine for its survival.

If you have got an efficient engine with efficient aerodynamics and you are prepared to do a little bit of lift and coasting, then you have the opportunity to start the race at less than 110kg. For every 5kg of weight you save, it's about two tenths of a second a lap quicker, so there is a natural reward to starting the race a little bit lighter. There is still a competitive edge from making an efficient car - both Power Unit and aerodynamics - and racing smartly to make sure that you have good pace at the start of the race as well as through the race.

Mercedes-AMG F1 W10 EQ Power Technical SpecificationChassisMonocoque:
Moulded carbon fibre and honeycomb composite structure
Bodywork:
Carbon fibre composite including engine cover, sidepods, floor, nose, front wing and rear wing
Cockpit:
Removable driver's seat made of anatomically formed carbon composite, OMP six-point driver safety harness, HANS system
Safety Structures:
Cockpit survival cell incorporating impact-resistant construction and penetration panels, front impact structure, prescribed side impact structures, integrated rear impact structure, front and rear roll structures, titanium driver protection structure (halo)
Front Suspension:
Carbon fibre wishbone and pushrod-activated torsion springs and rockers
Rear Suspension:
Carbon fibre wishbone and pullrod-activated torsion springs and rockers
Wheels:
OZ forged magnesium
Tyres:
Pirelli
Brake System:
Carbone Industries Carbon / Carbon discs and pads with rear brake-by-wire
Brake Calipers:
Brembo
Steering:
Power-assisted rack and pinion
Steering Wheel:
Carbon fibre construction
Electronics:
FIA standard ECU and FIA homologated electronic and electrical system
Instrumentation:
McLaren Electronic Systems (MES)
Fuel System:
ATL Kevlar-reinforced rubber bladder
Lubricants & Fluids:
PETRONAS Tutela
TransmissionGearbox:
Eight speed forward, one reverse unit with carbon fibre maincase
Gear Selection:
Sequential, semi-automatic, hydraulic activation
Clutch:
Carbon plate
DimensionsOverall Length:
Over 5000mm
Overall Width:
2000mm
Overall Height:
950mm
Overall Weight:
743kg
Mercedes-AMG F1 M10 EQ Power Technical SpecificationPower Unit SpecificationType:
Mercedes-AMG F1 M10 EQ Power
Minimum Weight:
145 kg
Power Unit Perimeter:
Internal Combustion Engine (ICE)
Motor Generator Unit - Kinetic (MGU-K)
Motor Generator Unit - Heat (MGU-H)
Turbocharger (TC)
Energy Store (ES)
Control Electronics (CE)
Power Unit Allocation:
Three ICE, TC & MGU-H per driver per season
Two MGU-K, ES, CE per driver per season
Internal Combustion Engine (ICE)
Capacity:
1.6 litres
Cylinders:
Six
Bank Angle:
90
No of Valves:
24
Max rpm ICE:
15,000 rpm
Max Fuel Flow Rate:
100 kg/hour (above 10,500 rpm)
Fuel Injection:
High-pressure direct injection (max 500 bar, one injector/cylinder)
Pressure Charging:
Single-stage compressor and exhaust turbine on a common shaft
Max rpm Exhaust Turbine:
125,000 rpm
Energy Recovery System (ERS)
Architecture:
Integrated Hybrid energy recovery via electrical Motor Generator Units
Energy Store:
Lithium-Ion battery solution of minimum 20 kg regulation weight
Max energy storage/lap:
4 MJ
Max rpm MGU-K:
50,000 rpm
Max power MGU-K:
120 kW (161 hp)
Max energy recovery/lap MGU-K:
2 MJ
Max energy deployment/lap MGU-K:
4 MJ (33.3 s at full power)
Max rpm MGU-H:
125,000 rpm
Max power MGU-H:
Unlimited
Max energy recovery/lap MGU-H:
Unlimited
Max energy deployment/lap MGU-H:
Unlimited
Fuel & Lubricants
Fuel:
PETRONAS Primax
Lubricants:
PETRONAS Syntium
Още от сезон 2018:
Само регистрирани потребители могат да коментират. Ако вече имате регистрация можете да влезете в сайта от "Вход". В противен случай можете да се регистирате като натиснете "Вход" и избере "Регистрация". За повече информация:
f1.f-e-n.net/index.php/url14729